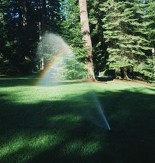 Leaking sprinkler systems and loose fittings can result in large amounts of water loss over time. Not only can this cause personal financial strain, but it can also have a potentially harmful effect on your landscaping.

It is not enough to have your irrigation system installed properly. Advanced Water Works vows to maintain your sprinkler system's productivity and efficiency throughout the course of our business relationship. We will inspect the system regularly adjusting run time and noting all possible areas for repair and adjustment. Once you approve of the repairs, we will take the necessary steps to restore your sprinkler system to pristine condition.

Contact us, your local irrigation contractor, at (855) 327-2318 in Missouri City, Texas, for immediate sprinkler repair services.